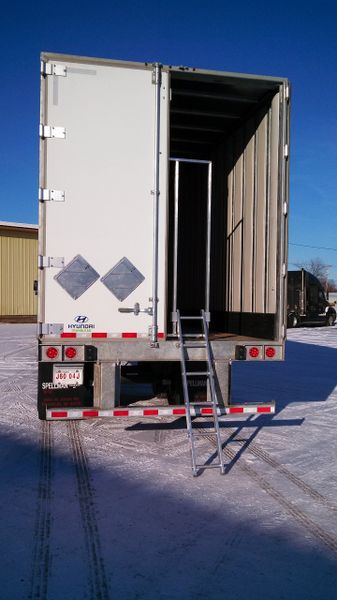 Cargo Ladder
The Cargo Ladder attaches to the inside of the trailer door keeping it out of the elements. It only takes 3'' of space on the left side of the trailer and swings out to the right side to allow the driver to easily deploy the ladder to the ground (see on product video page). With the design of the frame and ladder, the driver can feel safe and secure using a 3 point stance in and out of the trailer. The ladder is easily stowed back to it's original position in seconds and weighs only 11 pounds. The Ladder is ANSI certified for a weight up to 300 pounds.
Must Call or email us for Shipping charges as shipping varies to locations.

Average shipping is $30.00 to $50.00 each on single orders and Approx. $25.00 each on volume orders depending on shipping destination.
See the Cargo Ladder video on the Product Videos page
Call 608-963-8330 or email info@cargostrategies.com to order so we can give you the proper total with shipping.
*allow 4 to 6 weeks