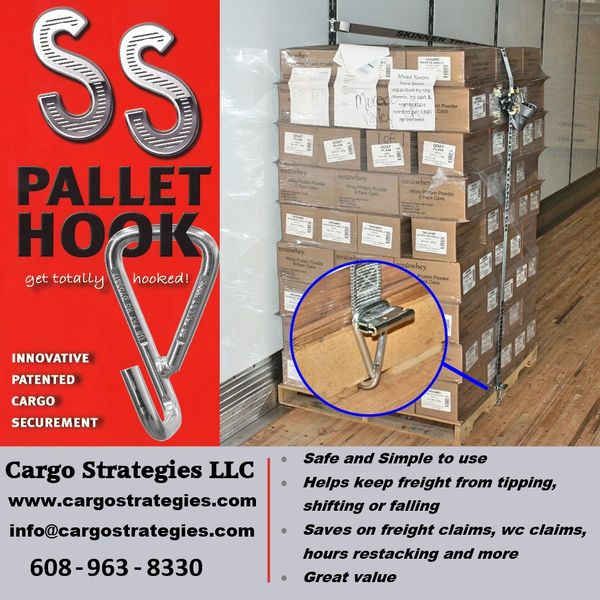 SS Hook 100 bulk
* This is for a bulk order of 100 hooks. 
  This is the BEST price available online for SS Pallet Hooks which comes to $2.35 per hook not including shipping. Shipping and handling on this order is a flat rate of $24.95 to anywhere in the continental United States.
(email info@cargostrategies.com for even better pricing on larger fleet orders)
SS Pallet Hook – an easy choice… 
The SS Pallet Hook was invented by me, Mike Stromberg, due to the need for a good, easy securement method for an ongoing problem in the transportation industry – freight claims.
 As a former LTL and truckload driver, I dealt with freight problems daily. Tipped freight, damaged freight, wasted miles on multi stop loads, missed appointments because I had to restack tipped pallets, even digging in dumpsters for dunnage to secure my load and the list goes on…… I spent countless hours dealing with freight issues all because at times there was no way to secure freight properly and it didn't matter how careful I drove.  Eventually moving on to VP of Operations for a medium sized trucking company, we came across a customer with difficult freight to secure and that is when I put all of my experience together to develop a light weight and simple to use securement product – the SS Pallet Hook.
After developing and testing the SS Pallet Hook, we put it in the field for testing and drivers fell in love with them and we found it cured the problems mentioned above. It is hard to put a number on the actual savings but in a fleet of 100 trucks we went from about $20,000.00 per year in freight claims to $0.00 five years straight. Man I wish I had this product when I drove truck. This is exactly what drivers need to take their freight securement to the next level.
Here are the advantages of the SS Pallet Hook:
Carrier Benefits

Shows customers you value their products

Helps with freight claim disputes

Can eliminate freight claims

Reduce WC claims

Save money!

Driver retention

Driver Benefits

Easy to use and easy to carry

Hooks up quickly

SAFE -Installs and removes while pallet is in place

many uses for cargo control

Keeps freight from shifting, tipping or falling

Drivers save time; time is money!

Less missed appointments due to restacking

Saves time not looking for additional dunnage

Gives drivers peace of mind that freight won't shift

Drivers gain a sense of pride for doing a good job

Allows drivers to safely stagger freight to help with weight distribution and/or save miles/time during pick-ups and deliveries on multi stop loads.

Great Value!

Aid your driver's with a great securement product
We feel most drivers only need 2 SS Pallet Hooks to start with. That is less expensive than almost anything else you can do for your driver but this has pay back. If a driver only uses one hook one time, it paid for itself many times over. This is too small of a cost not to give it a try.
Call 608-963-8330  or email info@cargostrategies.com

Featured Products